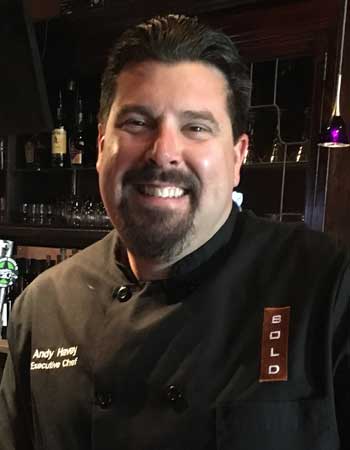 Chef Andy Havey was born and raised in Kalamazoo, MI, graduating from Loy Norrix High School in 1995. From there, he attended Johnson & Wales in Charleston, SC. In 1999, he graduated with his AAS Culinary Arts degree.
After graduating from Johnson & Wales he spent some time in Kalamazoo refining his skills before landing his first Executive Chef's position with Bourbon St. Bistro in Loveland, Colorado. From there, he took his skills to Ptarmigan Country Club in Ft. Collins, CO. Over the next couple of years he expanded his culinary skills by preparing and serving large banquets and catered events for up to 500 guests.
After leaving the Country Club, he spent about a year at Henry's Restaurant in Loveland, Colorado before landing the Banquet Chef/Sous Chef at Moody's Bistro and Lounge in Truckee, CA. During his tenure at Moody's, Chef Havey fine tuned his skills and furthered his education under the direct supervision of Executive Chef Mark Estee.
In addition to day to day operations, Chef Havey had the pleasure of catering some rather large events, including one for over three thousand people at a Kenny Loggins concert in 2007. After returning home to Kalamazoo, in early 2009 he landed a position with Mangia Mangia before being hired as the Head Chef at BOLD.
While diverse in the culinary arts and passionate about great food and Wine, Chef Havey has a soft spot for Michigan State sports, Southwest/Mexican cuisine and Corona Light, no lime!