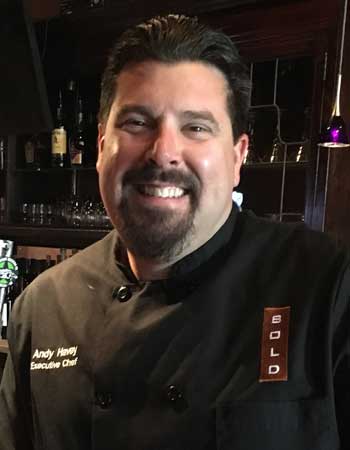 Chef Andy Havey was born and raised in Kalamazoo, MI, graduating from Loy Norrix High School in 1995. From there, he attended Johnson & Wales in Charleston, SC. In 1999, he graduated with his AAS Culinary Arts degree.
After graduating from Johnson & Wales he spent some time in Kalamazoo refining his skills before landing his first Executive Chef's position with Bourbon St. Bistro in Loveland, Colorado. From there, he took his skills to Ptarmigan Country Club in Ft. Collins, CO. Over the next couple of years he expanded his culinary skills by preparing and serving large banquets and catered events for up to 500 guests.
After leaving the Country Club, he spent about a year at Henry's Restaurant in Loveland, Colorado before landing the Banquet Chef/Sous Chef at Moody's Bistro and Lounge in Truckee, CA. During his tenure at Moody's, Chef Havey fine tuned his skills and furthered his education under the direct supervision of Executive Chef Mark Estee.
In addition to day to day operations, Chef Havey had the pleasure of catering some rather large events, including one for over three thousand people at a Kenny Loggins concert in 2007. After returning home to Kalamazoo, in early 2009 he landed a position with Mangia Mangia before being hired as the Head Chef at BOLD.
While diverse in the culinary arts and passionate about great food and Wine, Chef Havey has a soft spot for Michigan State sports, Southwest/Mexican cuisine and Corona Light, no lime!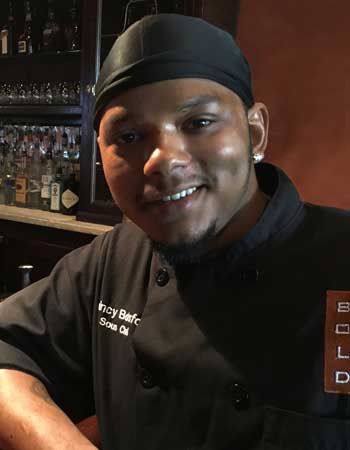 Sous Chef Quincy Botsford was born and raised in Grand Rapids, Michigan. He attended Hudsonville High School and eventually graduated from Vision Quest in 2011.
While attending Hudsonville High School, Quincy enjoyed playing tennis, basketball and football. During this time, he also attended the Ottawa County Career Line Tech Center, where he spent half his day studying the culinary arts.
Upon graduation, Quincy relocated to the Kalamazoo area and began working for BOLD in September of that year. His first position was as a dishwasher. After a few months in the dish tank, Quincy got a chance to train as a cook. He quickly excelled at every station and Chef Havey noticed a different kind of drive and dedication his young cook displayed.
In January of 2014, Quincy became BOLD's Sous Chef. With his current position, Quincy is in charge of training new cooks, daily prep, running dinner service and handling the majority of our outside catered events. In 2016, he surprised everyone, especially himself, and took first place in the local Chef's Against Hunger Competition.
He is an avid sports fan, enjoys practical jokes and loves spending time with his family. And, if you ever get the chance to sit down and talk with him, make sure to ask him about the numerous nicknames he has at BOLD and especially… how he got them!